Dell Studio 155x Wireless / Networking Options
Today I'm going to start a discussion regarding the late-model (1555/1557/1558) Dell Studio laptops and their wireless and networking options. This started when I ordered a Dell Wireless 5620 card for a Studio 1558 computer I had purchased. This is the combined mobile broadband / GPS card intended for the Studio 155x systems.
I was quite surprised when I opened the access panel on the bottom of the computer to install the card and discovered that there were no antenna cables for it in there, despite the service manual saying there would be.
As I continued to investigate, I found a number of places where the service manual was flat-out wrong, and a bewildering array of Dell part numbers. Let's get one thing out of the way – the "Service Manual" that Dell makes available on their web site is NOT the manual that their techs use. Their internal manual has a lot more information and goes into things in a lot more depth than the customer service manual. Dell doesn't make their internal manual available to the public, but you might have some luck with search terms like "Dell Certified Systems Expert" or "Dell Foundations 2009 Portables".
Anyway, let's get the easy stuff out of the way first. That will be Bluetooth. The customer service manual claims that there are 3 mini-PCI Express sockets underneath the bottom cover. That is only true for some systems. On both of my 1558's there was a soldered-in chip where the manual says the Bluetooth socket is located. I am not sure what that chip is (it is under a heat sink). It isn't the ATI graphics chip as that is next to the CPU and handled by the main system heat sink and fan: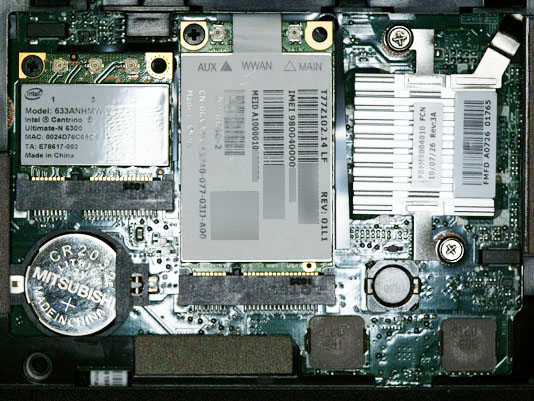 That's OK, because that card needs an external bluetooth antenna, which your system probably doesn't have. Fortunately, there is a second Bluetooth socket on the other side of the motherboard. That socket takes a Wireless 365 bluetooth card that doesn't need an external antenna: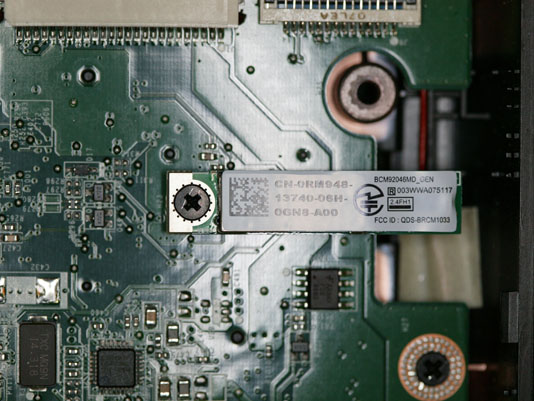 Unfortunately, getting to this location involves a near-complete disassembly of the laptop. For the gruesome details, look at the service manual in the link above.
The first picture in this article shows an Intel Ultimate-N 6300 MIMO (3-antenna) WiFi card and the Wireless 5620 card installed in the card bay. Careful observers may have noticed that the 6300 card doesn't have a Dell part number on it. That's because I purchased a generic retail card, not the Dell one, as I could get it for a better price that way. Installing the cards is the easy part. If you didn't order your computer with the 5620 option, you won't have the antennas you need. When I asked Dell why they sold a card that couldn't be used, they just sort of mumbled "dunno". I don't understand why they did this – it created a huge assortment of part numbers for them to inventory (aside from making upgrades harder). The Studio 155x was available in at least seven different lid colors. Each of those has at least three possible antenna configurations – WiFi only, WiFi + mobile broadband, and WiFi + mobile broadband + Bluetooth. That creates 21 different part numbers to stock instead of 7 if they built the systems with all the antennas.
Dell won't sell you a replacement lid (even if you could figure out the correct part number) because it isn't considered a customer-replacable part. So it is off to eBay, where I discovered that sellers had no idea what options the lids they were selling included. I received flat-out incorrect answers from a number of sellers I've found to be reliable in the past.
The next part of this article could be called "A Field Guide to Studio 155x Lids". It will teach you what to look for in an eBay auction, as well as how to tell if a lid is really new as the seller says. Later on I'll tell you the part numbers for the most common lid and bezel to help your searches.
This sequence of four photographs shows the four corners of the inside of a Studio 155x lid. I'll start at the top left and proceed clockwise. This first picture shows you the WiFi antenna. It will have 2 wires, a black and a white, that connect to the WiFi card in the base. This particular antenna also includes one of the mobile broadband antennas which is black with a gray stripe. Note that this is one particular style of lid – others can have silver-colored foil instead of the copper you see here, may have black circuit boards instead of green ones, and may have different markings. The important thing is whether or not there is an antenna at each location, not what it looks like: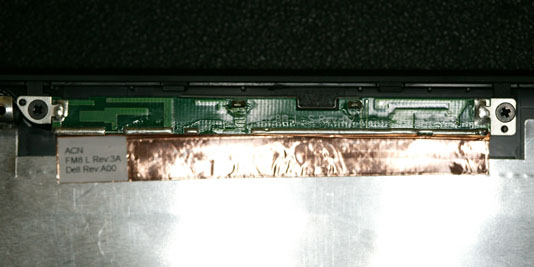 Next is the antenna at the top right. If your lid has this antenna, it supports mobile broadband. This antenna has one wire, gray with a white stripe: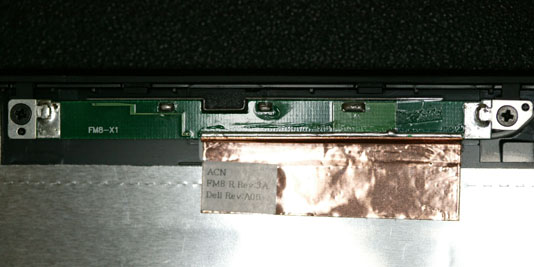 Now we have the bottom right antenna. If your lid has this antenna, it supports Bluetooth. This antenna has one wire, which is blue: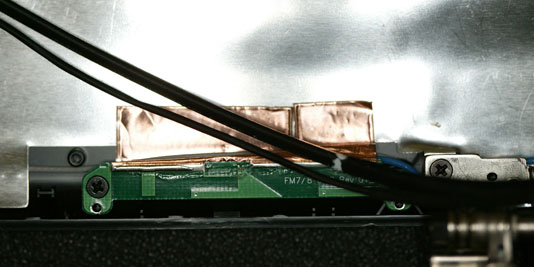 Last is the bottom left. This is the MIMO (3rd) antenna for WiFi. All lids have this. The antenna has one wire, gray: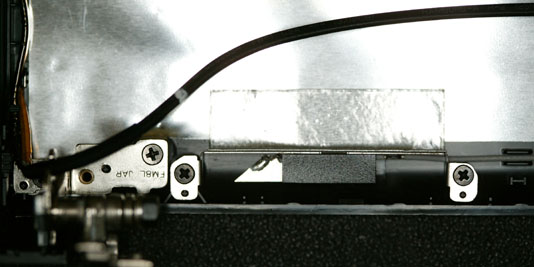 Now that you know how to tell what antennas are included on a lid, I'll show you how to tell if it is new or used. New lids will have clear plastic caps on all antenna wires (anywhere from 3 to 6, depending on what antennas are installed):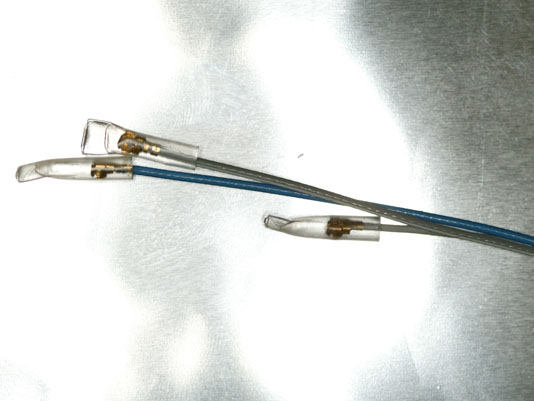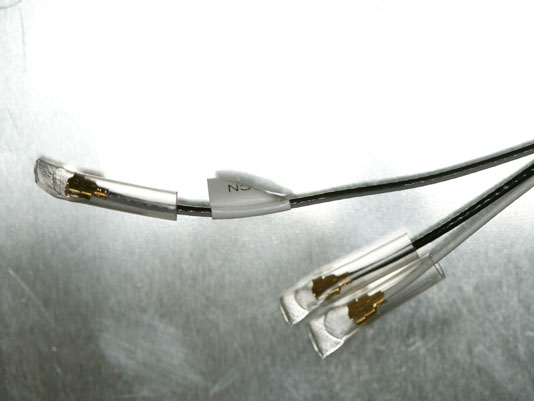 If your lid doesn't have all the caps installed, it is almost certainly a used lid. Next, the antenna wires and the wire from the power switch will be taped near the middle of the lid with masking tape: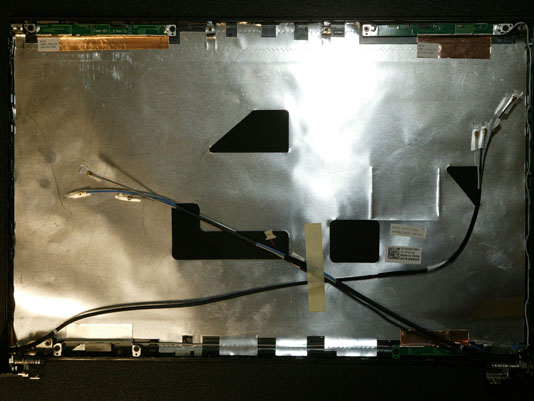 The outside of a new lid will also have a piece of protective clear plastic on it, with 6 cutouts for 6 pieces of masking tape: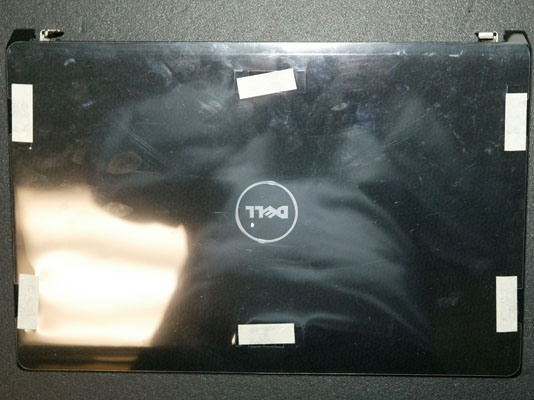 One thing to be careful of is sellers who mark their listings "Photograph may not be the actual item", or who list the condition as "New – Other". I've found lots of New – Other listings which were actually parts stripped off of systems.
The part numbers you probably want are W855P (sometimes written 0W855P) and W440J. The W855P part is a lid with every possible antenna installed, in the "Black Chain-link" color (which seems to be the most popular color). The W440J is the black bezel that snaps on the inside of the cover. You're almost certainly going to damage at least one of the latch tabs on your old bezel when you take the display apart, so you may as well order a new one with the lid and just use that. Part number 06DV9 is an interchangeable part number for the bezel.
If, for some reason, you want the part number for some other combination of color and antenna (like Plum Purple w/ mobile broadband but no Bluetooth), add a comment to this entry and I'll post it.
The next 155x article will be the highly-anticipated tutorial on replacing a 720p display with the 1080p one.
Edit: Updated 24-Mar-2021 to fix dead link to Dell service manual and provide currect motherboard part number (in comments).