Sunday, June 27th, 2021
15 years ago, on June 28th 2006, Alaska's Senator Ted Stevens said that "… the Internet is … a series of tubes". While widely ridiculed at the time for failing to understand the nature of the services his Senate committee was in charge of regulating, I figured I'd take a look back on the occasion of the quote's 15th anniversary. The following text is intended as humor – please don't tell me that I don't "get it" either.
While the Internet is indeed "a series of tubes", very few people have actually seen these tubes and generally think (if they think about them at all) that they are as mythical as unicorns. In reality, the tubes are quite shy and generally burrow deep underground, where they are neither seen nor heard as they happily carry the Internet traffic of billions of users. Despite being solitary by nature, sometimes the tubes are forced by humans into larger groups for ease of herding. Even in captivity, the tubes do reproduce by fission, generally as one or more new, thinner tubes branching off of the parent tube. An example can be seen in the rectangular box near the foreground of the image.
As I mentioned, the tubes are generally solitary and out of sight, so most people don't know what they look like. So I am pleased to show you this image of a large group of tubes at one of the main places humans have forced them together. This may be the only time people will ever see such a large gathering of tubes.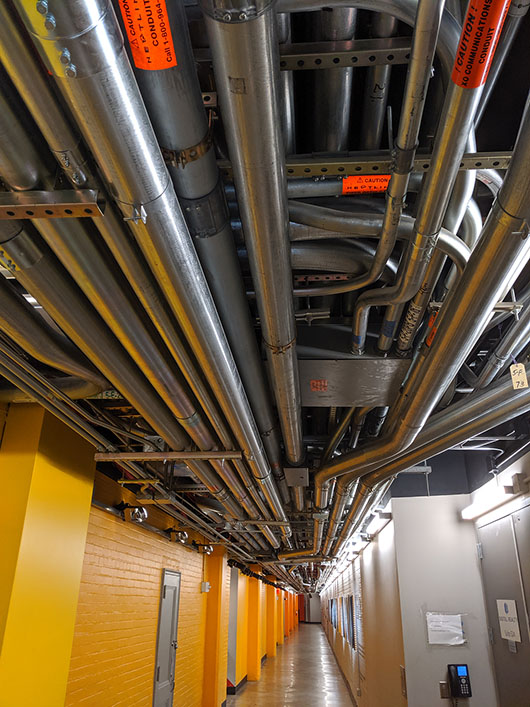 This image is clickable for a larger view
This image was taken in October, 2019 at 111 Eighth Avenue, NYC (AKA the Googleplex), although this photo was taken in a public corridor. The exact location is the 5th floor near the 9th Avenue end of the building. And yes, I really did take this picture nearly two years ago with the specific intent of making this post today.
This specific post and image are licensed under the Creative Commons Attribution-NonCommercial-ShareAlike 4.0 International (CC BY-NC-SA 4.0) license. Contact the author here if you would like to discuss alternative licensing and usage.