Rush – Time Machine Tour @ PNC Bank Arts Center 9/3/10
I just got back from the Rush show at the PNC Bank Arts Center (which most people still call the Garden State Arts Center – that's from before the state started selling naming rights to everything).
I'll update this post with lots more details later – it was a great show. In the meantime, I thought I'd put up some of the pictures we took. Photos by me unless noted otherwise.
In keeping with the theme of previous tours, there's a particular set layout (in the past we've had a laundromat and chicken rotisseries). This time the set style was steampunk, with boxes with tubes, dials, steam vents, etc. – one of which was making sausages!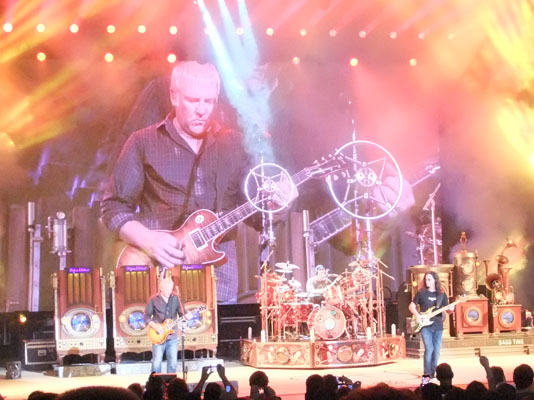 Although Rush has been touring for 35-odd years (well, the first time I saw them was in 1976), they still seem to be having a genuinely good time. Given how few bands from that era are still touring with their original members*, this is even more amazing.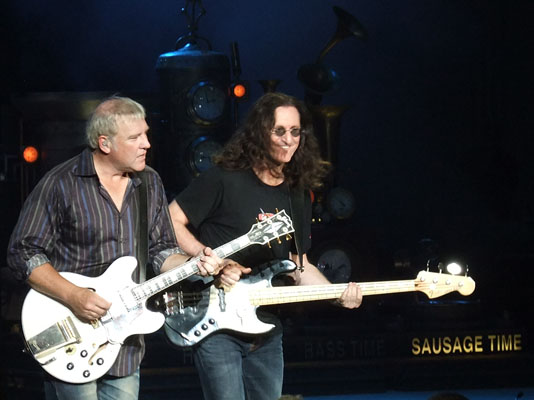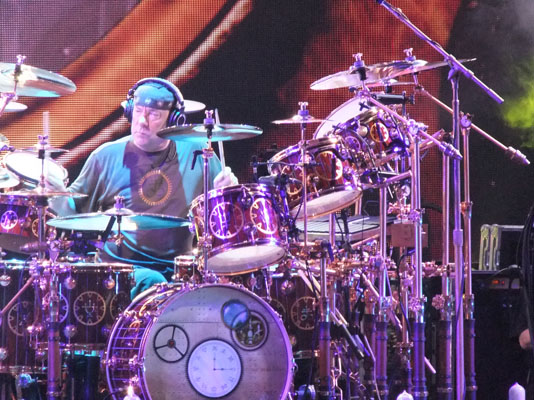 Photo by S. Forte
Alex plays the mandolin. He seemed to be having some trouble with guitars tonight – there were a number of unexpected swaps during the show, and at one point he made hand signals to the stage crew that he couldn't hear anything in his headphones.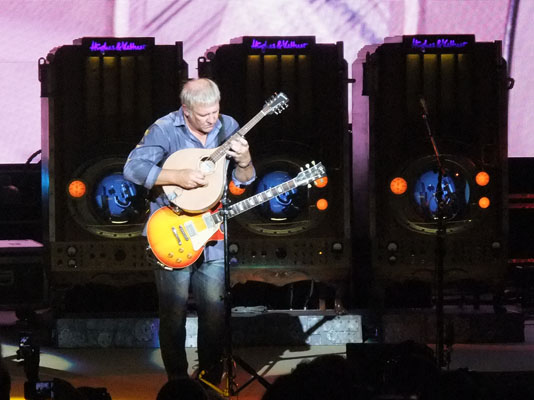 Photo by S. Forte
Here's part of the animation that played during Moving Pictures.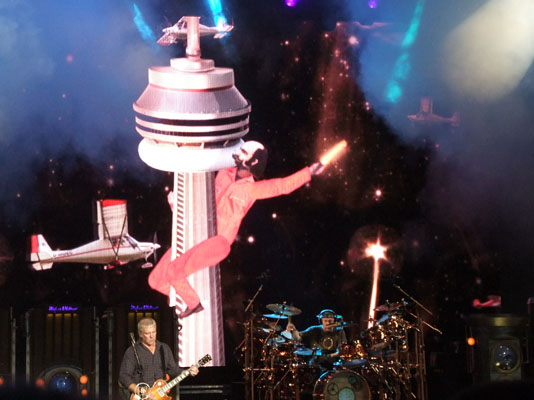 Photo by S. Forte
During Neil's drum solo, a fanciful animation of a robot playing drums played on the giant video screen.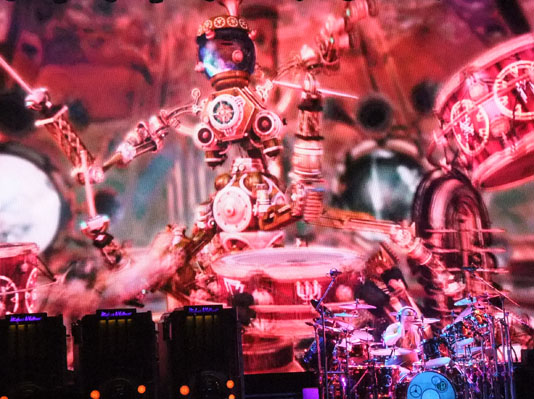 Photo by S. Forte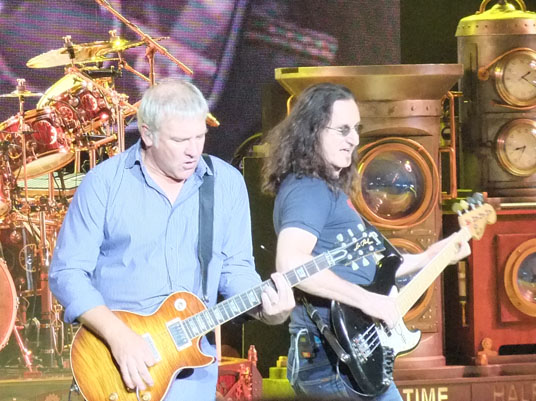 At various points in the show, characters came out to tend to the sausage machine and remove sausages, to dust Neil's drum kit with a feather duster, and so on.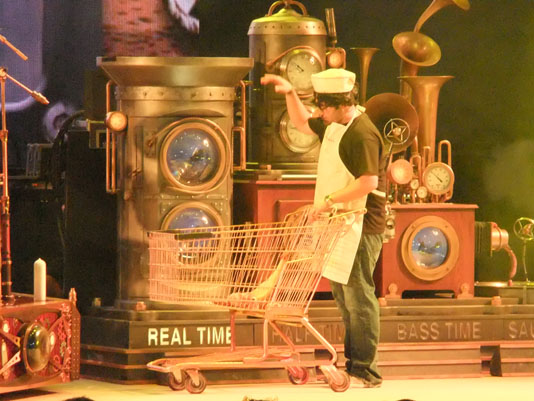 As the show progressed, the signs behind Geddy changed from Real Time to Half Time to Bass Time to Sausage Time.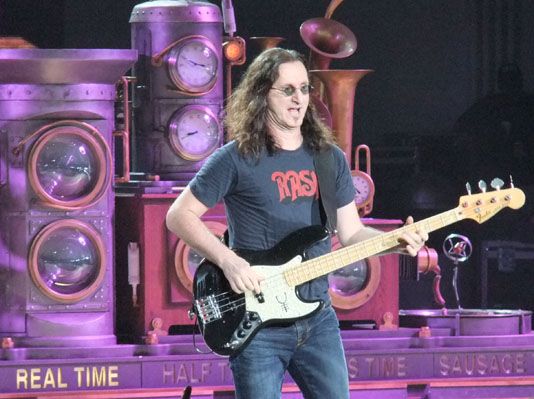 Performing is hard work – particularly when you're a 3-piece and don't use additional musicians. And these guys are each 57 years old! There are points in the show where Geddy is playing bass, performing keyboards, and singing at the same time. And I know people who can't walk and chew gum at the same time… Alex was really working up a sweat – by this time, his shirt was soaked through. I counted at least 4 different shirts on him, all of which got soaked.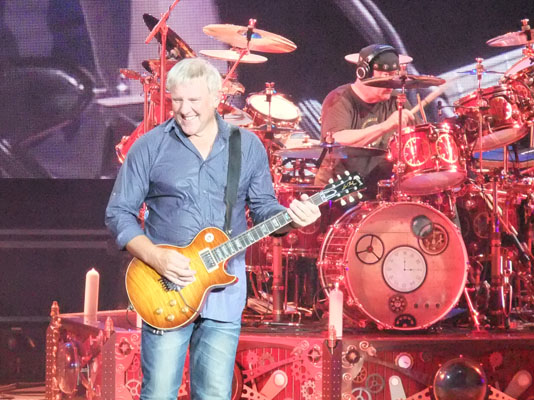 Near the end of the break between sets, the clock on the Gefilter started counting up toward the present.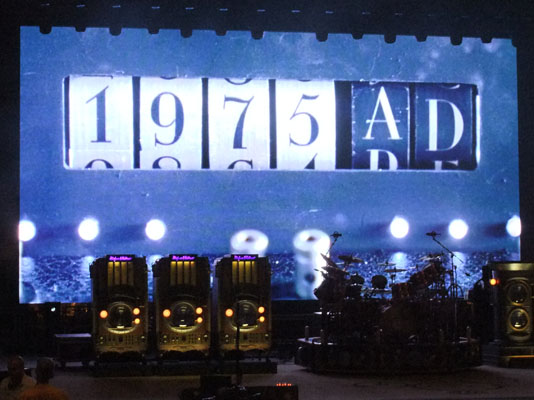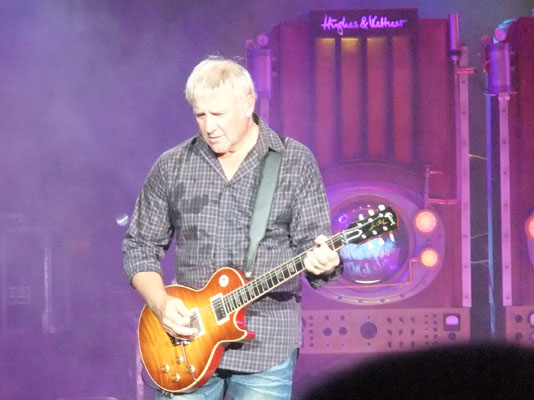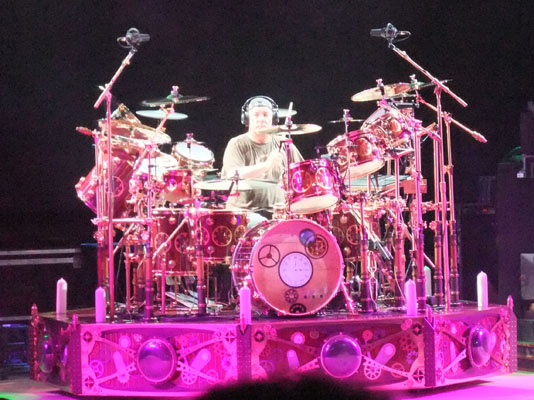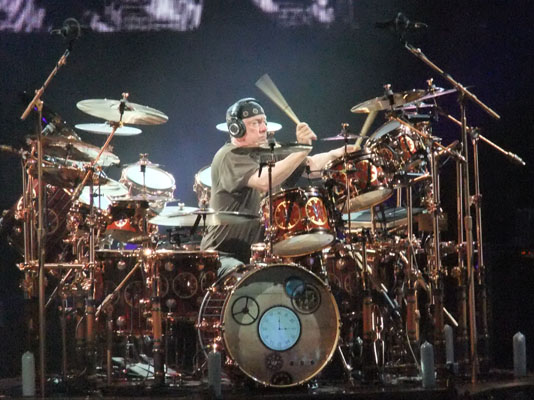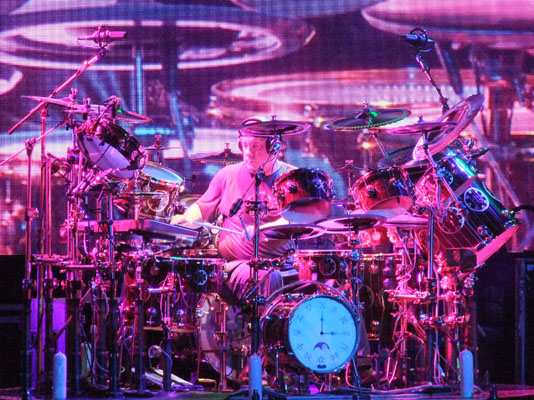 The Starman from 2112.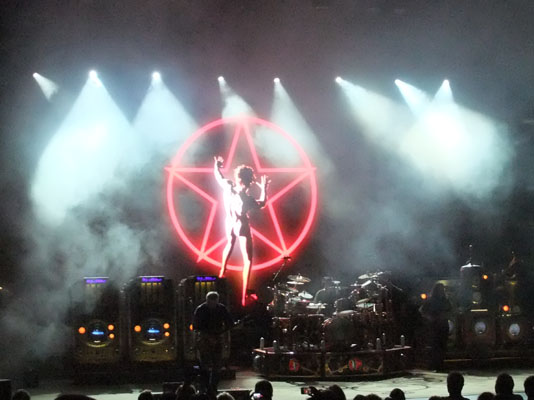 Here's a video I shot of Red Barchetta:

(The above video is the full 720P version. Click the

icon on the top right to go fullscreen.)
* Yes, I know about John Rutsey. But he'd left the band before I saw them for the first time.