The Dell Studio 1558 – Still a nice laptop in 2021
I've had a number of Dell Studio 1558 laptops for well over 10 years now. Occasionally people ask me "Why do you still have that old thing? You need a newer/faster/better system!" Actually, I don't and I'm going to explain why.
The Studio 1558 (as I have configured or built them) has lots of still-relevant features, like:
Quad-core i7-740QM CPU with Hyperthreading
Discrete AMD HD5470 graphics
16GB of user-expandable memory instead of being soldered in
Backlit keyboard with sculpted keys and 3 backlight intensity levels
Full-HD (1920 x 1080) screen w/ matte (anti-glare) finish
1TB Samsung 860 EVO SSD
6x Blu-ray recorder
Integrated 802.11a/b/g/n/ac/ax WiFi using Alfa AWPCIE-AX200U (based on Intel AX200) card
Integrated Bluetooth 5.1 (included with AWPCIE-AX200U)
Integrated 4G LTE universal mobile broadband using Dell DW5808 card
Integrated GPS (included with mobile broadband)
Built-in SDHC card reader
Built-in hardwired Gigabit Ethernet
9-cell battery for extended runtime
Readily available schematics, service information and parts
Very attractive (IMHO) styling
However, being an 11 year old design, it does have some limitations. In approximate order from most annoying (to me) to least annoying:
Limited to 8GB RAM (not really – see my other blog post here)
Somewhat lower CPU/memory performance (see below)
Lower-end graphics performance for a modern laptop (see below)
SATA 2 interface for disk drive and optical drive
USB is 2.0, not a newer specification
"Gigabit" Ethernet tops out at around 600Mbit/sec
The last officially-supported operating system was Windows 7 (but it can run Windows 10 – see my other blog post here)
I don't use this laptop for gaming, so the graphics performance isn't a problem. I do some very light Photoshop editing when I'm on the road and posting pictures. The SATA 2 interface isn't really limiting since I have a Samsung 860 EVO SSD with Samsung Magician software which boosts the speed quite a bit. The only time I miss having USB 3 is when backing up pictures / videos I took while traveling to an external USB hard drive for safekeeping, and that can happen overnight while I'm sleeping.
I'm going to compare the Studio 1558 with the closest-to-equivalent current systems from Dell.
First, let's consider a Precision 7550 high-end workstation-class system configured as closely as possible to the specs of my Studio 1558 (PDF of Precision configuration here). That currently prices out at $3497.56 list price, $2439.33 sale price. While it has a faster CPU, memory and graphics, it has a keyboard with those annoying flat tops instead of sculpted ones like the ones on the Studio 1558. And it has no provision at all for an internal optical drive.
Next, let's try a low-end system. Dell's low-end systems are not customizable beyond selecting a stock hardware configuration with whatever software you want pre-installed. I selected the Inspiron 15 7000 as the model that came closest to the 1558 (PDF of Inspiron configuration here). After selecting 16GB RAM, 1TB SSD and a backlit keyboard, only one configuration remains, with a list price of $1659.99 and a sale price of $1409.99. Again, this has a faster CPU, memory and graphics but also the annoying flat-top keys and no internal optical drive. In addition, it lacks hardwired Ethernet (WiFi only), doesn't support any mobile broadband options, offers no extended-runtime battery and probably has other drawbacks. It does have a higher-resolution screen than either the Studio 1558 or the Precision 7550 configuration shown above.
I'm picking Dell systems to compare with because they're the ones I'm most familiar with, service manuals, parts and schematics are readily available, Dell doesn't make you jump through hoops to prove you're entitled to download drivers and BIOS updates, and doesn't do silly things like having the BIOS only recognize officially "blessed" vendor-branded WiFi or other add-in cards. If you know of current non-Dell systems that are close to the Studio 1558's configuration and reasonably priced, I'd like to hear about them in the comment section.
As far as performance of the Studio 1558, it is quite reasonable. Microsoft still includes the "winsat" benchmarking tool, though it no longer displays the scores on the Control Panel / System page. But if you know where to look:
%windir%\Performance\WinSAT\DataStore\* Formal.Assessment (Initial).WinSAT.xml
you can find the scores. Windows 10 rates the system on a scale of 1.0 through 9.9 instead of the 1.0 through 7.9 scale of Windows 7. Here are the results for one of my Studio 1558 systems running Windows 10:
Overall System Score: 5.1 (lowest of the following scores)
Memory Score: 8.5
CPU Score: 8.5
Graphics Score: 5.1
Disk Score: 7.75
For comparison, the scores on Windows 7 were:
Overall System Score: 5.7 (lowest of the following scores)
Memory Score: 7.7
CPU Score: 7.5
Graphics Score: 5.7
Gaming Score: 6.3 (no longer rated in Windows 10)
Disk Score: 5.9
That shows that a high-end configuration of a Studio 1558 makes a fine Windows 10 machine if you aren't making extensive use of graphics. Just for comparison, this is the Windows 10 winsat result from a high-end (Precision 3630 with Xeon E-2286G CPU, 32GB 4-way interleaved RAM, Radeon Pro WX7100 graphics and a 1TB Class 60 NVME drive) workstation costing over $5000:
Overall System Score: 8.7 (lowest of the following scores)
Memory Score: 9.3
CPU Score: 9.3
Graphics Score: 8.7
Disk Score: 8.9
I'm happy with that.
Please note that the above benchmarks and my "seat of the pants" performance opinion is based on a system with an i740-QM CPU (this was the top-end CPU offered by Dell in the 1558), 8GB or 16GB of RAM, and a fast 1TB SSD running Windows 10 x64 LTSC. As part of the research for this article, I used a 1558 with an i5-520M CPU, 4GB of RAM and a 320GB mechanical hard drive, running Windows 10 Pro 20H2. Saying the overall experience was quite unpleasant would be a bit of an understatement. Simply restarting Windows had the disk saturated at 100% for well over 10 minutes as shown by the Task Manager / Performance window. A SSD would certainly have helped, but the 4GB RAM certainly caused a lot of paging activity. Given the cost of the upgrades today, it seems silly to not upgrade a Studio 1558 to a top-spec system.
With the computer running Windows 10 LTSC and Office 2019 Professional Plus, I felt it was only fitting to update the palmrest badges to reflect this. This is the original "Energy Star" sticker from 2010, but the CORE i7 badge has been updated to the latest style, the Windows 7 badge was replaced with a Windows 10 one, and an "Office 2019 Professional Plus" sticker was added to complete the display. The "Portable4" and "Backup PC" labels indicate the hostname on my network and that this is one of 3 identical Studio 1558 computers, one labeled "Real PC" that goes on the road with me when I travel, and 2 labeled "Backup PC" in case something happens to the real PC.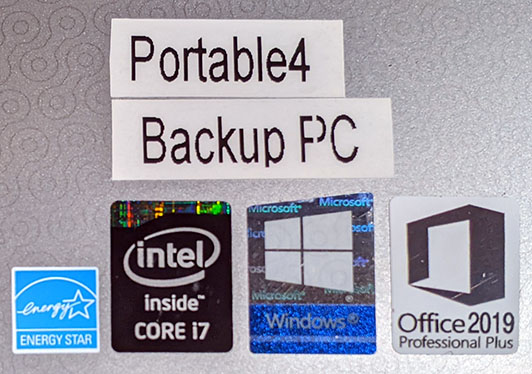 Click on the image for full-screen view