Announcing The Tubes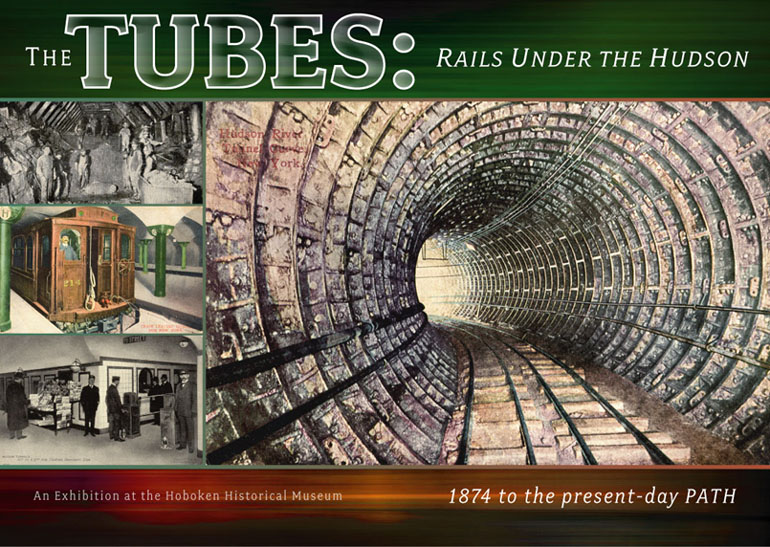 The Hoboken Historical Museum and the Jersey City Landmarks Conservancy invite you to
The Tubes: Rails Under the Hudson
1874 to the present-day PATH
Guest Curator, Terry Kennedy
The Tubes was open to the public Tuesday, January 21, 2003 through Sunday, April 13, 2003.
Hoboken Historical Museum
PO Box 3296, 1301 Hudson Street
Hoboken, NJ
(201) 656-2240
Museum open: Tuesday - Thursday 5-9 p.m.
Saturday & Sunday 12-5 p.m.
For directions:
www.hobokenmuseum.org
Four programs complement the exhibit. Please call the Museum to reserve your seat and to inquire about admission costs:
Sunday, January 26, 3 p.m. "Rails Under the Mighty Hudson," slide lecture by transportation historian and author Brian J. Cudahy.
Sunday, February 9, 3 p.m. "Antique Stocks & Bonds," illustrated talk by scripophily dealer Donald T. Mesler.
Saturday, March 8, 4 p.m. A reading of Theodore Dreiser's short story about sandhogs, by Chris O'Connor, Mile Square Theatre.
Sunday, March 9, 3 p.m. "Saving the Hudson & Manhattan Powerhouse," slide lecture by Jersey City Landmarks Conservancy president John Gomez.
On reverse: Hudson & Manhattan Railroad postcards, ca. 1908. Collections of Paul Neshamkin and the Hoboken Historical Museum.
The Tubes was assisted by a grant from the New Jersey Historical Commission, a division of Cultural Affairs in the Department of State. Complementary slide lectures were made possible by a grant from the New Jersey Council for the Humanities, a state partner of the National Endowment for the Humanities. Additional exhibit support was provided by Alpine Custom Floors and Alpine Restoration, Sign Graphics, Metro Fire & Communication, Shore Contracting, and John Wiley & Sons.
---

---
Press for The Tubes
Click on any image below to enlarge.
---
---
---
---
---
---
---
---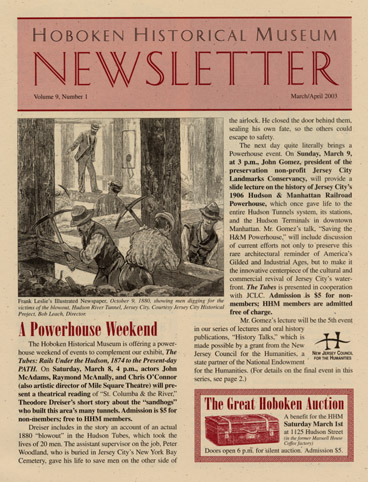 ---
---